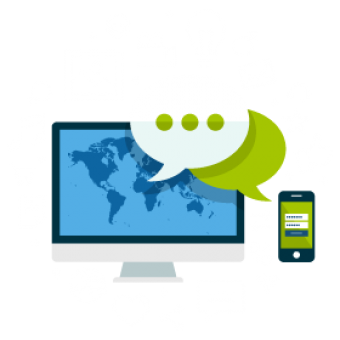 Social Media Marketing Services
If digital marketing is like a strategic, data-driven, customer-centric popularity contest ... social media marketing is the on-stage interview bit of the contest and your customers are the contest judges.
It's fashionable to say social media marketing is more than just a popularity contest. And, to be fair, those who say that aren't entirely wrong. Social media enables businesses to engage with current and potential customers and to receive both direct and indirect feedback at near instantaneous speeds.
Brand Monitoring
evevo improves your reputation by producing measurable social media content and using the latest tools to track and adjust your marketing messages when needed.
Social Media Contests
Popular community based platforms like Facebook, Twitter and Pinterest can quickly skyrocket your web traffic. Our social media experts develop marketing strategies that fit your brand and audience.
Social Media Management
Running one effective social media campaign is a full time job. Running several at a time requires a dedicated team. evevo social media experts provide the resources and bandwidth to handle multiple simultaneous social media campaigns on your behalf.
Setup & Custom Profile Design
Without a consistent brand recognition across all platforms, your social media marketing efforts will never reach maximum velocity. evevo social media consultants create high quality, synergistic cross platform content that resonates with your customers.
But, while social media marketing can exist without the brand/business to consumer feedback loop, it can't survive without some measure of popularity. Which is just a complicated way of saying, "You can talk all you want, but if no one listens, you won't get what you want and they'll never know what they're missing."
At evevo, we understand social media. We develop specific social media marketing strategies designed to elicit actionable feedback from your target market. We provide fully managed and supported social programmes that include share-worthy content generation and communication channels over which to distribute that content. Channels like blogger outreach and video distribution.
"Brilliant service. Just like to say that although we had a rough time with many Google updates in the past. Evevo have put us on the right path and were now doing everything 100% legitimately. Results took little longer but however they work their magic. They're the best seo company we've worked with! Already referred our it support company to work with them"

"Interesting strategy to SEO We were sold the idea of using evevo mainly because of their ethical SEO strategy. Several of our clients had recommended their services, and none of them had ever been affected by any Google update. This was our biggest worry after 2 of our previous websites being totally wiped out with these nasty updates. To be honest I think SEO can be a really shady business, so although results took a bit longer with evevo, none of Google's recent updates have had any effect on our site whatsoever.Look like their using a very natural approach to seo, so there's slower results but less risk. we even did some background research into where these links were coming from, and to be honest they were all on relevant hand written websites, not spammy link farms and the like. Great people to work with and I've even brought them along to a few corporate functions we run each year. On a final note they have always helped explain all technical areas with great detail. They like to send VERY long and detailed emails!! Overall I'd say it's a slower progress with evevo, but well worth the investment in the long term. Downside  You have to have more patience and wait longer for results."

"It is an understatement to say I am completely blown away by both the performance and quality of service evevo offers. It is not even the end of my 3 month term and many of my lead producing key words are already in the top 3 search results. Bogdan and Robert both are fantastic to work with."

Are you ready to transform your social media presence? Why not enlist evevo's social media experts to help?
Our social media team unlock the full potential of your social media marketing, SEO and online image.