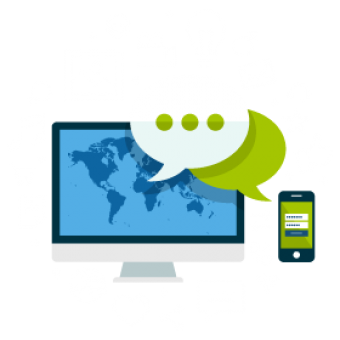 Social Media Marketing Services
If digital marketing is like a strategic, data-driven, customer-centric popularity contest ... social media marketing is the on-stage interview bit of the contest and your customers are the contest judges.
It's fashionable to say social media marketing is more than just a popularity contest. And, to be fair, those who say that aren't entirely wrong. Social media enables businesses to engage with current and potential customers and to receive both direct and indirect feedback at near instantaneous speeds.
Brand Monitoring
evevo improves your reputation by producing measurable social media content and using the latest tools to track and adjust your marketing messages when needed.
Social Media Contests
Popular community based platforms like Facebook, Twitter and Pinterest can quickly skyrocket your web traffic. Our social media experts develop marketing strategies that fit your brand and audience.
Social Media Management
Running one effective social media campaign is a full time job. Running several at a time requires a dedicated team. evevo social media experts provide the resources and bandwidth to handle multiple simultaneous social media campaigns on your behalf.
Setup & Custom Profile Design
Without a consistent brand recognition across all platforms, your social media marketing efforts will never reach maximum velocity. evevo social media consultants create high quality, synergistic cross platform content that resonates with your customers.
But, while social media marketing can exist without the brand/business to consumer feedback loop, it can't survive without some measure of popularity. Which is just a complicated way of saying, "You can talk all you want, but if no one listens, you won't get what you want and they'll never know what they're missing."
At evevo, we understand social media. We develop specific social media marketing strategies designed to elicit actionable feedback from your target market. We provide fully managed and supported social programmes that include share-worthy content generation and communication channels over which to distribute that content. Channels like blogger outreach and video distribution.
"We're now on page one for nearly every keyword that evevo has worked on. Not only that but after speaking with our account manager (bogdan) we have a good grip and understanding of the actual methods they use. Not really much more that I can say apart from a big thanks to your team and keep up the good work! Definitely recommend :-)"

"We used evevo for about 9 months in 2011. They did both on page changes as well as a long term backlinking campaign. The results were fantastic, however they did drop slightly when we finished our contract. To be fair our market is very competitive so this was expected. We have just signed up to another 6 months. The initial campaign probably led to around 5 new enquiries each week. We started on 2 per week from our website so this is a massive improvement! Be sure to speak with Rob as he has years of knowledge int his industry. Use the coupon SB110 and they will also give a free website audit. We get £50 off our next bill for the referral as well ;-)"

Rachelle.H
Softbourn Media
"Our PR company has had to work with over 10 different digital marketing agencies on many different types of projects. Since all the latest Google updates we needed a company that would really focus on the long-term results of our clients. Working for larger international organisations often requires as much consultancy as it does actual work. Therefore we went on the hunt for a new Internet marketing company to work with… We came across evevo during an exhibition at the Excel Centre in London. Our clients being high end telecommunications companies, we had to set up several meetings with a evevo and the client and I can gladly say that they are true market leaders in their field. Every single question we had was answered instantly, professionally, with sound/solid advice. "

Are you ready to transform your social media presence? Why not enlist evevo's social media experts to help?
Our social media team unlock the full potential of your social media marketing, SEO and online image.