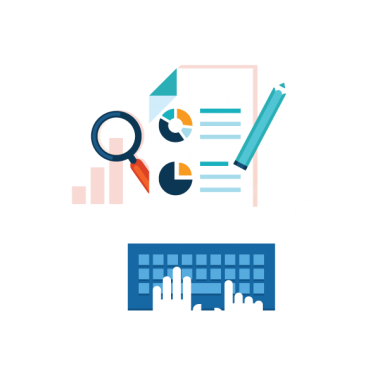 Search Engine Optimisation & Marketing
SEO offers a visible and effective search presence leading to a considerable increase of sales, profitability, and cost efficiency for our clients.
Our search engine optimisation core services include: Organic Search, On-Page SEO, Link Building, Keyword Research / Strategy and Activity Report.
Organic Search
Development and targeted promotion of remarkable content that fulfills your needs by achieving, improving and maintaining the visibility of your web presence.
On-Page SEO
Make your content easily accessible to search engines. Our team is ready to implement solutions to boost your rankings and improve your performance.
Link Building
An essential part of any successful SEO strategy, let's build your internal link profile to add significance to your page keywords listed within search engines.
Search Engine Optimisation is fundamental to success. Our SEO strategies will earn your site a higher ranking in search results. We'll provide a full SEO keyword rankings report, a link building profile report and indexed page information. Our customer focused team will improve your traffic flow and increase sales for your web-based operations.
SEO is the lifeline of online marketing. We offer our valued clients a high quality and affordable package. Leave the rest up to us as our experts are trained on the latest guidelines from all major search engines such as Google, Bing, Yandex and Yahoo.
83%
Organic Traffic - Increase
38%
Average Visit Duration - Increase
21%
Pages Per Session - Increase
Keyword Research / Strategy
One of the most Important SEO elements is the target keywords. Let our team determine the best strategy for all your link building activities to increase your search engine ranking and organic traffic.
Activity Reports
We provide a detailed report of your website SEO performance evaluation, as well as data about your traffic, top referring keywords and a full explanation of your search engine activity.
Tell us about your project
Let us help you get your business online and grow it with passion
Our team of professional SEO experts is the perfect partner for a successful business partnership.
"Our company has used SEO for the past five years to generate most of our sales online. Therefore we had the pleasure of working with many so-called 'SEO companies'. evevo came recommended to us from the local Chamber of Commerce due to their connections with local enterprise agencies. We are based in Bedfordshire and operate a manufacturing facility for folding sliding doors. All of our sales leads were generated online and before we had the pleasure of working with evevo we received around 1,100 visitors per month. The project specification we gave them was to increase this by at least 50% within six months, and then gave them the budget work with. We were assigned our own project manager and he set about asking us various questions, including our business needs, targets and best buyer keywords. Every month we receive keyword rankings and to be honest with you they increased month on month. We are now on month 4 and for the keyword 'frameless glass doors' we are now in position number three. Before using evevo we were about 15th of this keyword alone generates at least an extra 300 visitors per month. We recently used the evevo for AdWords but didn't have much success, however this was not at the full of evevo, it more to do with the fact that our industry is very competitive and the margins of relatively small. We would highly recommend to anyone needing online marketing services to use a evevo. Please do not hesitate to contact us at Sunseeker Doors UK and you can speak directly with myself, operations director."

"Our PR company has had to work with over 10 different digital marketing agencies on many different types of projects. Since all the latest Google updates we needed a company that would really focus on the long-term results of our clients. Working for larger international organisations often requires as much consultancy as it does actual work. Therefore we went on the hunt for a new Internet marketing company to work with… We came across evevo during an exhibition at the Excel Centre in London. Our clients being high end telecommunications companies, we had to set up several meetings with a evevo and the client and I can gladly say that they are true market leaders in their field. Every single question we had was answered instantly, professionally, with sound/solid advice. "

"From the very beginning of working with Evevo they have always impressed us with their easy to understand explanations, realistic time-scales, honesty and above all RESULTS. We have never been disappointed with the service we have received from them and would not hesitate to recommend their services."

PMW Communications
Account Director