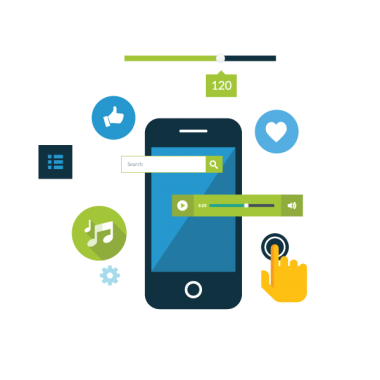 Mobile Marketing
And the new, undisputed champion of digital consumption in the online world is … mobile!
Mobile is here. And it's not going away anytime soon. Year after year, the pool of mobile device users keeps growing and now mobile internet users exceeds desktop internet users. If you haven't jumped on the mobile bandwagon to take advantage of the wide open mobile spaces, let us be the first to welcome you aboard and steer you in the right direction.
Mobile devices offer a wealth of demographic information about the people who use mobile devices and the places they use them. This allows marketers and business owners an unprecedented look at consumer behavior. Now you can target specific segments of the population using specific criteria at the specific times and on the specific channels where your ads will be most effective.
We're proven and trusted leaders in mobile marketing. We manage every aspect of a mobile campaign, including: ideation, audience profiling, campaign design, delivery, reporting, analytics and everything in between. Mobile users are the fastest growing user base and revenue stream on the entire planet and we'll help you tap into it.
41%
Post Engagement Rate Increase
21%
Page Engagement Rate Increase
We analyse and enhance your current mobile marketing strategy or build you one from scratch. Don't miss out on a huge business opportunity – go mobile!
Mobile First Design
We ensure a great browsing experience for all users with focused efforts on mobile and desktop.
Accurate Targeting
We know the potential for mobile marketing for business success that's why our mobile campaigns are based on accurate targeting.
SMS Campaings
We use a cross-channel approach that integrates various mobile channels including SMS mobile marketing campaigns.
Tell us about your project
Let us help you get your business online and grow it with passion
Are you excited about the opportunities mobile brings? We are. There's no need to wait to get started. Contact us today.
"We're now on page one for nearly every keyword that evevo has worked on. Not only that but after speaking with our account manager (bogdan) we have a good grip and understanding of the actual methods they use. Not really much more that I can say apart from a big thanks to your team and keep up the good work! Definitely recommend :-)"

"I hired evevo to work on our SEO, and so far my experience has been excellent. I have been working with Rob and his team for the past seven months now and out of 15 different keywords we've hit page 1 for all of them. As this was our first time hiring SEO Company we needed a lot of the basics explained to us, which I felt they did very well. In terms of pricing they are not the cheapest; but you certainly get we pay for in this industry. There are no shortcuts with internet marketing, and we have learnt the hard way by using our in-house team."

"Our PR company has had to work with over 10 different digital marketing agencies on many different types of projects. Since all the latest Google updates we needed a company that would really focus on the long-term results of our clients. Working for larger international organisations often requires as much consultancy as it does actual work. Therefore we went on the hunt for a new Internet marketing company to work with… We came across evevo during an exhibition at the Excel Centre in London. Our clients being high end telecommunications companies, we had to set up several meetings with a evevo and the client and I can gladly say that they are true market leaders in their field. Every single question we had was answered instantly, professionally, with sound/solid advice. "