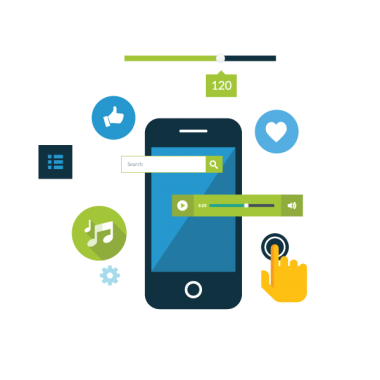 Mobile Marketing
And the new, undisputed champion of digital consumption in the online world is … mobile!
Mobile is here. And it's not going away anytime soon. Year after year, the pool of mobile device users keeps growing and now mobile internet users exceeds desktop internet users. If you haven't jumped on the mobile bandwagon to take advantage of the wide open mobile spaces, let us be the first to welcome you aboard and steer you in the right direction.
Mobile devices offer a wealth of demographic information about the people who use mobile devices and the places they use them. This allows marketers and business owners an unprecedented look at consumer behavior. Now you can target specific segments of the population using specific criteria at the specific times and on the specific channels where your ads will be most effective.
We're proven and trusted leaders in mobile marketing. We manage every aspect of a mobile campaign, including: ideation, audience profiling, campaign design, delivery, reporting, analytics and everything in between. Mobile users are the fastest growing user base and revenue stream on the entire planet and we'll help you tap into it.
41%
Post Engagement Rate Increase
21%
Page Engagement Rate Increase
We analyse and enhance your current mobile marketing strategy or build you one from scratch. Don't miss out on a huge business opportunity – go mobile!
Mobile First Design
We ensure a great browsing experience for all users with focused efforts on mobile and desktop.
Accurate Targeting
We know the potential for mobile marketing for business success that's why our mobile campaigns are based on accurate targeting.
SMS Campaings
We use a cross-channel approach that integrates various mobile channels including SMS mobile marketing campaigns.
Tell us about your project
Let us help you get your business online and grow it with passion
Are you excited about the opportunities mobile brings? We are. There's no need to wait to get started. Contact us today.
"We had a few issues to begin with regarding minor changes to our website. This probably should have been assessed sooner, but our web developer had built our site around an ajax framework which meant that apparently no changes could be made to unique meta tags etc.. we canceled our campaign with evevo until they had their own in house developer replicate the website on a traditional HTML framework. After a 2 week delay we got back up and running. We've had a massive increase to site traffic around 4 months down the line, and in turn enquiries. Btw we work in the building industry and have already recommended them to other contracting companies."

Jeremy, Pritter
Rentoil Contractors
"Interesting strategy to SEO We were sold the idea of using evevo mainly because of their ethical SEO strategy. Several of our clients had recommended their services, and none of them had ever been affected by any Google update. This was our biggest worry after 2 of our previous websites being totally wiped out with these nasty updates. To be honest I think SEO can be a really shady business, so although results took a bit longer with evevo, none of Google's recent updates have had any effect on our site whatsoever.Look like their using a very natural approach to seo, so there's slower results but less risk. we even did some background research into where these links were coming from, and to be honest they were all on relevant hand written websites, not spammy link farms and the like. Great people to work with and I've even brought them along to a few corporate functions we run each year. On a final note they have always helped explain all technical areas with great detail. They like to send VERY long and detailed emails!! Overall I'd say it's a slower progress with evevo, but well worth the investment in the long term. Downside  You have to have more patience and wait longer for results."

"Working as a web designer we always get asked for SEO services so we now work as a re-seller of evevo's services. Finally someone we can trust our client's sites with, and offer them a reliable way to boost rankings/traffic, id say we've sent about 15-18 projects their way in 5 months and have been happy with all of them. One or 2 had slow results but that's the fun game that is google and SEO! keep up the good work. Their guarantee is also proof that not all SEO companies out there are untrustworthy."

Article Wizards
Manchester