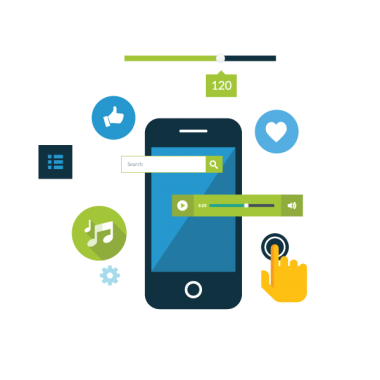 Mobile Marketing
And the new, undisputed champion of digital consumption in the online world is … mobile!
Mobile is here. And it's not going away anytime soon. Year after year, the pool of mobile device users keeps growing and now mobile internet users exceeds desktop internet users. If you haven't jumped on the mobile bandwagon to take advantage of the wide open mobile spaces, let us be the first to welcome you aboard and steer you in the right direction.
Mobile devices offer a wealth of demographic information about the people who use mobile devices and the places they use them. This allows marketers and business owners an unprecedented look at consumer behavior. Now you can target specific segments of the population using specific criteria at the specific times and on the specific channels where your ads will be most effective.
We're proven and trusted leaders in mobile marketing. We manage every aspect of a mobile campaign, including: ideation, audience profiling, campaign design, delivery, reporting, analytics and everything in between. Mobile users are the fastest growing user base and revenue stream on the entire planet and we'll help you tap into it.
41%
Post Engagement Rate Increase
21%
Page Engagement Rate Increase
We analyse and enhance your current mobile marketing strategy or build you one from scratch. Don't miss out on a huge business opportunity – go mobile!
Mobile First Design
We ensure a great browsing experience for all users with focused efforts on mobile and desktop.
Accurate Targeting
We know the potential for mobile marketing for business success that's why our mobile campaigns are based on accurate targeting.
SMS Campaings
We use a cross-channel approach that integrates various mobile channels including SMS mobile marketing campaigns.
Tell us about your project
Let us help you get your business online and grow it with passion
Are you excited about the opportunities mobile brings? We are. There's no need to wait to get started. Contact us today.
"Great work rob! Rob reviewed our site for us and by using tools such as mouse heat maps etc they figured the best way to optimize our site for conversions. We went from roughly 1-1.5% up to a consistent 2.5% and it is still increasing! This is crucial in our business as we run several e-commerce site to sell our products."

"Don't waste your time with anyone else. Recommended to me by a good friend we took the plunge and wouldn't go back to usoing anyone else. If you want serious advice and not 'false promises' then choose this company. THANKS EVEVO!"

"I looked around the internet for weeks to find someone to design our website (software company) and also optimise our website. In the end we went with evevo because of the reviews we found out there. They also had a real good online presence which showed they were at least keeping up to date with their own marketing (unlike many seo companies). After the initial website taking longer than expected (time delays on our side), we're really happy with the finished product. We can even update the site with new content and we are working with evevo on an on-going basis to get as much traffic as possible."