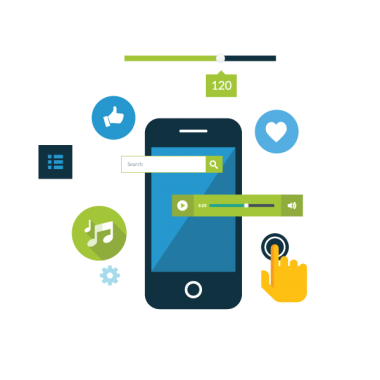 Mobile Marketing
And the new, undisputed champion of digital consumption in the online world is … mobile!
Mobile is here. And it's not going away anytime soon. Year after year, the pool of mobile device users keeps growing and now mobile internet users exceeds desktop internet users. If you haven't jumped on the mobile bandwagon to take advantage of the wide open mobile spaces, let us be the first to welcome you aboard and steer you in the right direction.
Mobile devices offer a wealth of demographic information about the people who use mobile devices and the places they use them. This allows marketers and business owners an unprecedented look at consumer behavior. Now you can target specific segments of the population using specific criteria at the specific times and on the specific channels where your ads will be most effective.
We're proven and trusted leaders in mobile marketing. We manage every aspect of a mobile campaign, including: ideation, audience profiling, campaign design, delivery, reporting, analytics and everything in between. Mobile users are the fastest growing user base and revenue stream on the entire planet and we'll help you tap into it.
41%
Post Engagement Rate Increase
21%
Page Engagement Rate Increase
We analyse and enhance your current mobile marketing strategy or build you one from scratch. Don't miss out on a huge business opportunity – go mobile!
Mobile First Design
We ensure a great browsing experience for all users with focused efforts on mobile and desktop.
Accurate Targeting
We know the potential for mobile marketing for business success that's why our mobile campaigns are based on accurate targeting.
SMS Campaings
We use a cross-channel approach that integrates various mobile channels including SMS mobile marketing campaigns.
Tell us about your project
Let us help you get your business online and grow it with passion
Are you excited about the opportunities mobile brings? We are. There's no need to wait to get started. Contact us today.
"We used evevo for about 9 months in 2011. They did both on page changes as well as a long term backlinking campaign. The results were fantastic, however they did drop slightly when we finished our contract. To be fair our market is very competitive so this was expected. We have just signed up to another 6 months. The initial campaign probably led to around 5 new enquiries each week. We started on 2 per week from our website so this is a massive improvement! Be sure to speak with Rob as he has years of knowledge int his industry. Use the coupon SB110 and they will also give a free website audit. We get £50 off our next bill for the referral as well ;-)"

Rachelle.H
Softbourn Media
"All we said to evevo was that we needed more traffic and gave them a budget. They set about putting into a custom built strategy and we're happy to say they have given us a massive return on our investment. We had roughly 500 visitors per month and now looking at about 950 after just working on our site for 4 months."

"Id would give evevo and the team full points but there was some initial confusion over keywords and budget. We had originally set out to work on a set list of keywords which were relevant to our company, Although we ranked well for these and did make it to page 1 within 5 months they probably weren't as relevant to our particular company we would have hoped. After talking about it recently, we have now come up with a list of keywords which are more likely to convert into customers. We've been working together now for over 9 months and will be sticking with evevo now. For anyone's interest our traffic increased by roughly 150% in this time and our company is based in the finance industry."