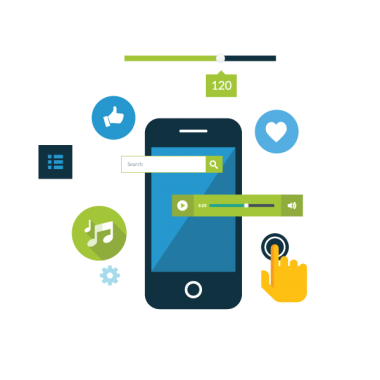 Mobile Marketing
And the new, undisputed champion of digital consumption in the online world is … mobile!
Mobile is here. And it's not going away anytime soon. Year after year, the pool of mobile device users keeps growing and now mobile internet users exceeds desktop internet users. If you haven't jumped on the mobile bandwagon to take advantage of the wide open mobile spaces, let us be the first to welcome you aboard and steer you in the right direction.
Mobile devices offer a wealth of demographic information about the people who use mobile devices and the places they use them. This allows marketers and business owners an unprecedented look at consumer behavior. Now you can target specific segments of the population using specific criteria at the specific times and on the specific channels where your ads will be most effective.
We're proven and trusted leaders in mobile marketing. We manage every aspect of a mobile campaign, including: ideation, audience profiling, campaign design, delivery, reporting, analytics and everything in between. Mobile users are the fastest growing user base and revenue stream on the entire planet and we'll help you tap into it.
41%
Post Engagement Rate Increase
21%
Page Engagement Rate Increase
We analyse and enhance your current mobile marketing strategy or build you one from scratch. Don't miss out on a huge business opportunity – go mobile!
Mobile First Design
We ensure a great browsing experience for all users with focused efforts on mobile and desktop.
Accurate Targeting
We know the potential for mobile marketing for business success that's why our mobile campaigns are based on accurate targeting.
SMS Campaings
We use a cross-channel approach that integrates various mobile channels including SMS mobile marketing campaigns.
Tell us about your project
Let us help you get your business online and grow it with passion
Are you excited about the opportunities mobile brings? We are. There's no need to wait to get started. Contact us today.
"4 months in, still excellent communication Everyone at my company is extremely happy with our SEO results over the last 4 months. Bogdan and Robert are both excellent communicators and great business men. Most importantly they keep their promises. From the beginning they always responded to my questions within 24 hours. They kept every part of their agreement while outperforming on all our keywords. I fully and wholeheartedly endorse them. Further, we have hired them to to further work for our Mobile Technology Rental company."

"Highly recommend this company for their SEO work. They really are ahead of the game and didn't make false promises or 'guaranteed' page one positions. Always stay away of anyone doing this. How can anyone guarantee page one google positions???? Instead evevo set about creating a unique and tailored seo campaign for our company based on our money keywords. We gave them our budget and they then used this to work on terms which we could realistically rank for. even with a limited budget we are ranking for many geographical words which has brought in much more business. We are continually putting more money into our campaign because we are seeing the results! Its always about ROI and with evevo we know that this is an investment worth taking."

"Our company has used SEO for the past five years to generate most of our sales online. Therefore we had the pleasure of working with many so-called 'SEO companies'. evevo came recommended to us from the local Chamber of Commerce due to their connections with local enterprise agencies. We are based in Bedfordshire and operate a manufacturing facility for folding sliding doors. All of our sales leads were generated online and before we had the pleasure of working with evevo we received around 1,100 visitors per month. The project specification we gave them was to increase this by at least 50% within six months, and then gave them the budget work with. We were assigned our own project manager and he set about asking us various questions, including our business needs, targets and best buyer keywords. Every month we receive keyword rankings and to be honest with you they increased month on month. We are now on month 4 and for the keyword 'frameless glass doors' we are now in position number three. Before using evevo we were about 15th of this keyword alone generates at least an extra 300 visitors per month. We recently used the evevo for AdWords but didn't have much success, however this was not at the full of evevo, it more to do with the fact that our industry is very competitive and the margins of relatively small. We would highly recommend to anyone needing online marketing services to use a evevo. Please do not hesitate to contact us at Sunseeker Doors UK and you can speak directly with myself, operations director."